Your Partners In STEM Education
We're a Business to Business Wholesale Distributor, Manufacturer, and Exporter of Scientific Educational Products with a Passion for Science, Technology, Engineering, and Math! We're here to help you find the right products to meet today's teaching standards and will support you every step of the way.
Learn More
Quality and Affordability
American Scientific, LLC is one of the largest importers and wholesale suppliers of scientific educational products in the USA. We are known for our great products, competitive prices, and going the extra mile.
If you cannot find what you are looking for, just ask! We usually have it, can find it, or can make it.
We provide custom and proprietary products, branding services, and more.
Contact us today to find out more!
We see the big picture! American Scientific ensures that any services provided and all of our product offerings are not only appropriate for any school curriculum but supplementary to classroom education.
Take advantage of our FREE Teacher's Guides, Student Handouts, and Product Demo and Experiment Videos expertly crafted for educators by our AmSci Support Team in partnership with local education experts.
With a focus on current technology, both in the way our operation is run and in the products we provide. Our office, warehouse, and manufacturing facilities use only up-to-date tech and highest quality equipment, and our products and services are designed with today's fast-paced and high-tech education environment in mind.
Through tools and training, we ensure that even the most effective educators and programs continue to meet the needs and demands for students' mastery of 21st century and real-world skills.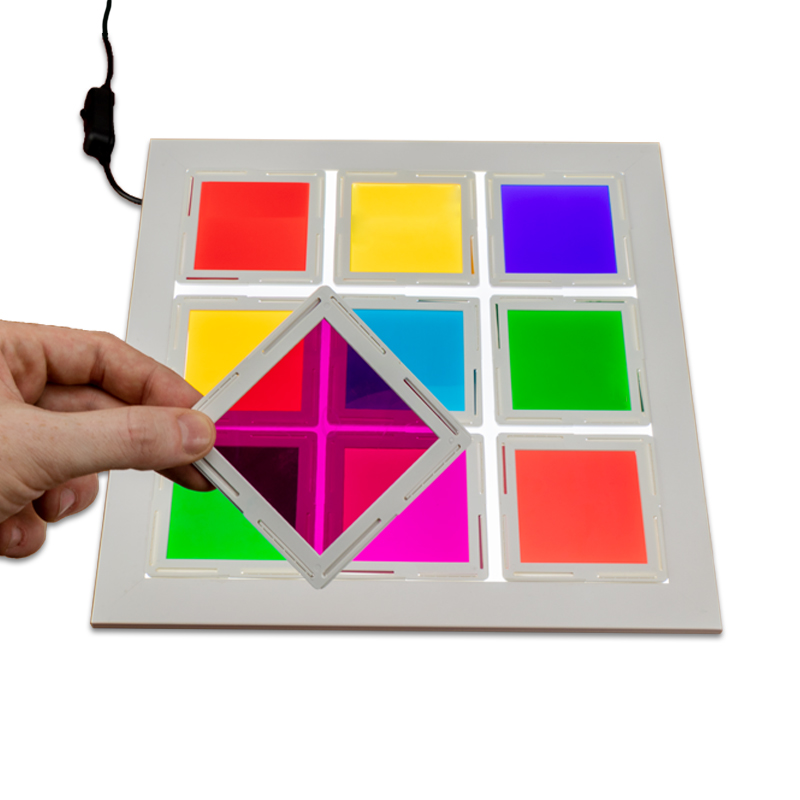 Item 3559-20
The Subtractive Color Theory Demonstration can be used to promote memory retention, encourage logical thinking, and teach the optics and physics of color mixing. As you are challenged to create specific color designs on the back-lit board, you must predict how colors of the filter tiles will mix either by experimentation or previous understanding – then you must strategically slide the squares into the correct configurations.
An extensive guide to lead you through a variety of activities is included!
This Color Theory Demonstration has a game-like quality and is elegantly simple. It makes exploring and experimenting with color mixing accessible (and fun!) for curious minds of all ages.
Teachers: Use the puzzle as a way to introduce the phenomena of subtractive color mixing to students in a classroom and explore color theory even more deeply through the games and related activities in the included guide.
Includes:
• Back-lit Base with On/Off Switch
• Detachable Power Adapter
• 2 Sets of 18 Color Filters
each set includes: 3 Cyan, 3 Magenta, 3 Yellow, 3 Red, 3 Blue, 3 Green
• Activity Guide
Extra sets of filters are available for additional learning and scientific discovery!
Quantity